SCORE Legends!
| Eric Solorzano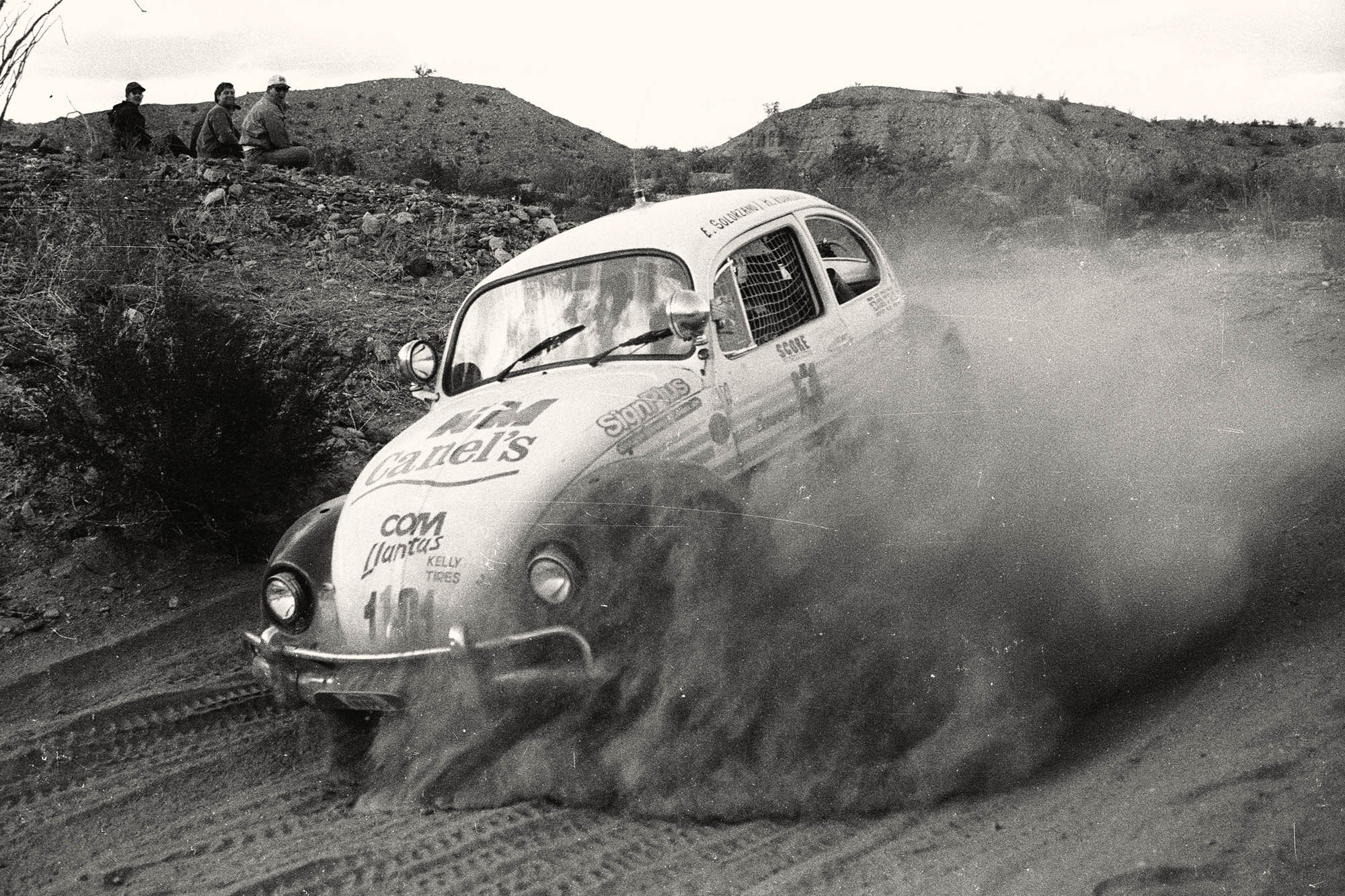 Photo Kris Pallesen/Centerline Images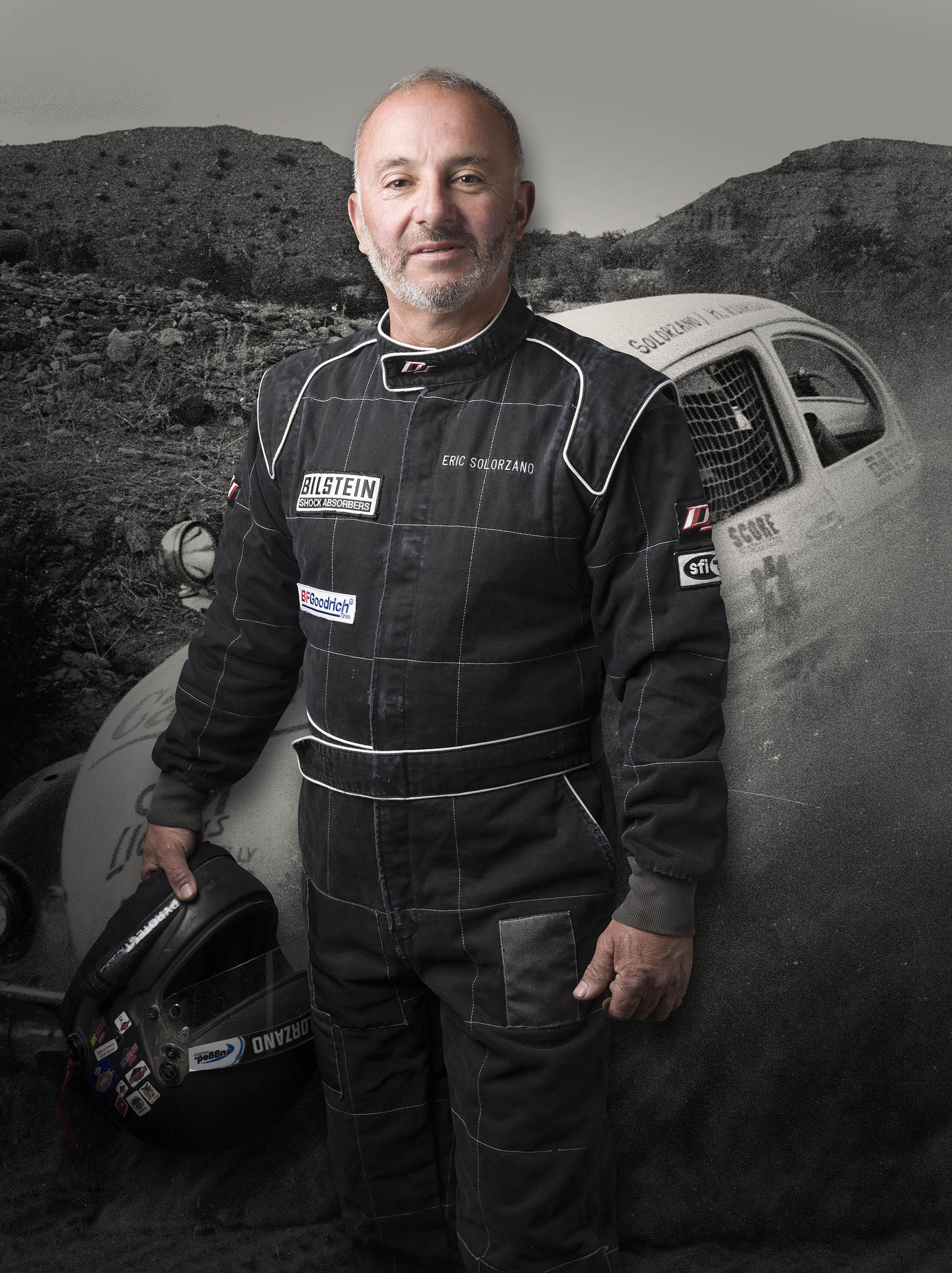 Portrait by Jack Wright/nMedia3.com
Eric Solorzano
Old School Baja
By Larry Saavedra / Action photo by Kris Pallesen/Centerline Images. Portrait by Jack Wright/nMedia3.com.
Excerpted from SCORE's "Racing Into History - Vol.1 & Vol. 2"
A class win in the SCORE Baja 500 is impressive. But imagine the odds-defying thrill of winning it in a bone-stock 50-year old VW Beetle. Class 11 driver Eric Solorzano knows the feeling well, he's won his SCORE Baja 500 class an incredible seven times in his career.
Fifty-nine year-old Solorzano of Tijuana, Mexico loves racing Class 11, but admits how challenging it can be in an old-school Beetle — sucking dust, hitting the whoops with limited suspension, and huffing down the straights with a fraction of the horsepower of the other classes. "I've been racing the same two Volkswagens for the past 29 years," he said. "I've got a 1967 and '74 Beetle. You have to understand the mechanics of these cars to race them. It's like you have to 'MacGyver' everything if you're going to compete. Back in '94 I stopped an oil leak with cardboard and silicone just to make a gasket. I was able to finish the race. I've won a lot of races by doing these emergency repairs, even transmission swaps."
How It Began
Solorzano's mechanical aptitude began in high school. "When I was 16 years-old my dad said if I wanted a car he'd give me the money to buy an old bug," he said. "It was a '68 Baja Bug. I was very involved in Beetles, and I made some nice pre-runners. Then I began rebuilding engines for friends, and that's how it started. I raced motorcycles off-road first, but that '68 bug really turned things around."
Solorzano says that parts are hard to find today, even though he operates a VW shop in Tijuana. "These parts can be expensive, especially engine components." he said. "I have to look for them in the states. Spindles and A-arms are some of the most difficult parts to locate. The body components made in Mexico aren't the same as the German-made body panels, the metal is not as thick. There's a lot of Mexican VW parts I can use, but I also have to search around to find certain things I can't find here."
A Long Career
Class 11 is a tough way to win at Baja. That's because SCORE rules allow for minimal aftermarket equipment improvements. These vehicles are older than some of the racers that drive them. Still Solorzano, who got involved in SCORE in '89, remains hooked on air-cooled engines.
Some see his determination as the reason he's become the winningest driver in this class. Solorzano believes the bugs were made for the deserts of Mexico. A realization he came to after logging hundreds of thousands of miles behind the wheel. But no matter his emotional attachment to racing in Class 11, it comes at a cost, and that's the amount of spare parts he must carry at each race to ensure a finish.
"The weight of all those parts is equal to carrying another person in the back of the bug," he said. "If I don't have the right part inside the car, the race ends there."
The SCORE Baja 500
The SCORE Baja 500 has always been a favorite for Solorzano. He's raced it solo numerous times. "I enjoy doing the loop from Ensenada and back, it's like coming home again after the halfway point," he said. "Going to La Paz during the SCORE Baja 1000 takes a lot of time and money. While the SCORE Baja 500 is a lot rougher in the uphill sections, it's enjoyable, but more difficult."
The most memorable SCORE Baja 500 Solorzano recalled, was in '93, where a crank pulley broke coming out of Santo Tomas. "I put water onto the cylinder heads to finish, but ultimately I took second place after leading most of the way," he said. "I still remember how close it was to a first win at the SCORE Baja 500."
Man Behind the Myth
If you get a chance to meet him in person, you'll see that Solorzano is quite the racer and personality. The man featured in Dana's Brown's Dust to Glory films, that won 9 SCORE Baja 1000 races, is the same person that allegedly leaped over a fence at a junkyard, and faced down a snarling dog to grab a part he needed from a totaled VW Bug and still finished the race.
Yet no matter how complicated Solorzano might appear, insiders know him as simply a fierce Class 11 driver because his reputation for doing the improbable proceeds him.
He's pushing the envelope in 2019, and the aches and pains of Class 11 are catching up. But he's got a team of regulars that drive with him and his sponsor Rugged Radios has been with him forever. "I've got a good team of people that race with me, and they're very talented," said Solorzano. "These people have all been with me for many years, some from the start."
Solorzano hints that he'd like to make it in the Off-Road Hall of Fame before he retires down the road. "It's out of my hands, he said. "For now, I'll just race."
SCORE Baja 1000 & 500 50th Anniversary Books!
New books celebrating the SCORE Baja 1000 & 500 50th Anniversary. Racing into History Volumes 1 & 2
Pictorial Celebrations of Both Races
Capturing the Historic 50th Anniversary race weeks from set-up to the finish line.
Massive 416 page & 432 page Commemorative Hardbound Books listing all entrants and finishers.
Race History highlights of the SCORE Legends.
Historic Vehicle Overview.
Historical Reference with SCORE Baja 1000 & 500 statistics for the past 50 years.