SCORE Legends!
| Rob MacCachren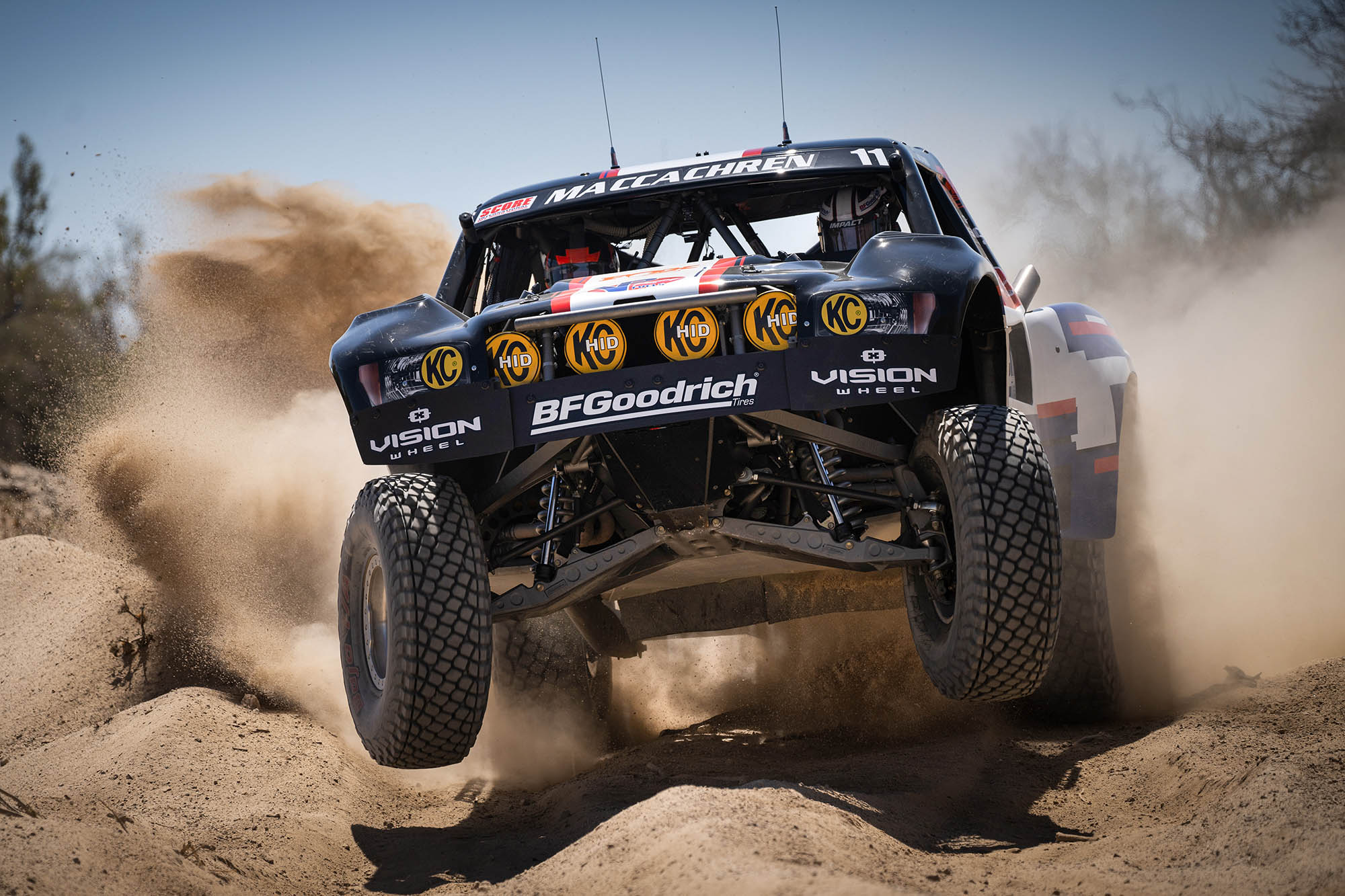 Rob MacCachren
From Buggies to Trophy Trucks
Story by Larry Saavedra. Photos by GetSomePhoto
Excerpted from SCORE's "Racing Into History - Vol.1 & Vol. 2"
If you asked Rob MacCachren which SCORE Baja 500 was his most memorable, the answer has to be the 2018 victory on the 50th anniversary of the event. That's when MacCachren shocked the desert racing world by flawlessly clinching the SCORE Baja 500 Overall Championship in his number eleven Rockstar MacCachren Ford Trophy Truck. While he's no stranger to dramatic finishes like those, this scrappy two-time SCORE Baja 500 Overall Champion (1996, 2018) and six-time Class Champion of the race had his sights set on winning the 50th Anniversary event long before he set a tire tread on the course.
Racing motorcycles since 8 years old, he moved to four-wheel off-road race cars at 16. MacCachren started in buggies at this early age then jumped into Class 8, but the allure of the new Trophy Truck class in the '90s was too much.
Think Tiger Woods approaching the 18th green two shots under par. That's the kind of confidence MacCachren exudes and one reason why he holds the official SCORE record of 17 total races wins.
"We've won a lot of races over the years and people started keeping track at about 200," MacCachren said. "Maybe when I'm in a rocking chair, after I've retired from racing, I may reflect back at what I did. But do I want to win every race? Heck, yes!"
SCORE Baja 1000 & 500 50th Anniversary Books!
New books celebrating the SCORE Baja 1000 & 500 50th Anniversary. Racing into History Volumes 1 & 2
Pictorial Celebrations of Both Races
Capturing the Historic 50th Anniversary race weeks from set-up to the finish line.
Massive 416 page & 432 page Commemorative Hardbound Books listing all entrants and finishers.
Race History highlights of the SCORE Legends.
Historic Vehicle Overview.
Historical Reference with SCORE Baja 1000 & 500 statistics for the past 50 years.